O

mega

C

ubed.net
Information
Veracity has developed a family of innovative products to support IP Video projects. These solve practical problems in IP Video system design and deployment.
Related Links
4-port High speed Ethernet over Coax Cable Adapter.
Ethernet over Coax Cable Adapter with PoE output
NVT NV-EC1701 Transmits 10/100 BaseT Full Duplex Ethernet up to 1,500m (5,000ft) over RG-59 (or similar)
1 and 4-port High speed Ethernet over Coax Cable Adapters with a 60W (maximum) power transmission capability
Ethernet over coaxial cable is not a new concept. Two significant generations in the development of Ethernet, 10BASE5 and 10BASE2 made use of coaxial cable.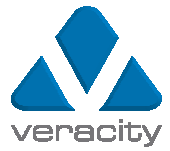 You are Here:- Home >> Products >> Network Solutions >> Veracity >> Ethernet over Coax >> Highwire Quad
- Ethernet over Coax Converter with PoE

The Veracity HIGHWIRE QUAD integrates HIREWIRE Ethernet over Coaxial Cable technology with a four-port PoE switch capiable of supplying power to four Class 2 PoE compatible divices.

The adapter converts the symmetrical send/receive Ethernet signals into asymmetrical signals and then combines them to be transported over a single strand of copper.

The adapter also converts the 12VDC or 24VAC power supply for legacy analogue cameras into PoE on the network ports.

The Veracity HIGHWIRE QUAD is used together with a standard single-port Veracity HIREWIRE at the control room end to transmit fully specified Ethernet signals transparently across a single legacy coaxial cable link of up to 500m and provide four PoE outputs proximal to the IP-Cameras.


- Specifications
RANGE
Auto-optimizing for all 75 Ohm coaxial cable:
280m (920ft) full-rate over video-grade RG-59 (Up to 350m depending on quality)
350m (1150ft) full-rate over RG-6
500m (1640ft) full-rate over RG-11
NETWORK
4-port unmanaged Ethernet switch
Auto-configuring for speed (10BASE-T or 100BASE-T) and duplex
Use with Cat 5, Cat 5e or Cat 6 patch or crossover cables
PoE OUT
IEEE 802.3af compliant PSE
Maximum power out 30W, isolated
(Allocated by IEEE PoE power class)
POWER IN
Auto type and polarity detection with detachable screw terminal connector
10-40V DC (max current 3.2A at 12V)
20-28V AC (max current 1.6A at 24V)
DIMENSIONS
92 x 111 x 32mm (3.62 x 4.37 x 1.26in)
107 x 140 x 32mm (4.21 x 5.51 x 1.26in) including connector and mounting lugs
290g (10.2oz)

- Applications
SECURITY INSTALLATIONS
HIGHWIRE QUAD will power access control panals and interlocks aswell as IP-Surveillance cameras.
LONG RANGE NETWORKING
Use HIGHWIRE as a cost-effective means to deploy network connections beyond 100 metres - for example a buried RG-11 cable can be used to deliver a network connection between buildings 500 metres apart.
TRANSPORTATION
HIGHWIRE can be used on legacy coaxial cables found in rail transport or elsewhere, and its universal power input makes it well-suited to low-voltage installations.
ELEVATORS
Because coaxial cable will coil and bend properly, unlike Cat 5 cable, HIGHWIRE provides an ideal means to provide network access to elevator carriages, for VoIP, security, lift panel and other devices.
ANYWHERE THERE IS COAXIAL CABLE
HIGHWIRE has been deployed over all types of video cable, radar, TV antenna and satellite downlinks, armored steel cables, you name it. 50 ohm coax or cables of other impedance can normally be used without any modification to the unit.

- Documentation
[Find out more...]
Veracity HIGHWIRE QUAD Ethernet Adapter "Installation Guide", 95 kB pdf file.
To view the .pdf file, you will need the free Adobe® Acrobat® Reader or plug-in. If you do not have Acrobat Reader, please select the "Get Acrobat Reader" icon for further instructions.
Request Information:
E-mail

- Order Details
O

mega

C

ubed.net does not sell on-line. Orders (See Order Options for Details) can be placed by telephone, email or fax.
| | |
| --- | --- |
| Product Codes | Description |
| VHW-HWQ | HIREWIRE QUAD Ethernet Adapter with four PoE outputs |
| VHW-HW | HIREWIRE Ethernet Adapter |
| VPSU-12V-U | Universal (UK/USA/EU) 12V DC power supply for HIGHWIRE Ethernet Adapter |
| VQ-24V-UK | Optional 24V, 2.5A power supply for HIREWIRE QUAD |