O

mega

C

ubed.net
Information
The Veracity HIGHWIRE Powerstar Ethernet and PoE over coaxial cable adapters can deliver both Ethernet data and 25 watts of PoE power over cable lengths of 1600m.
Related Links
Ethernet over Coax Cable Adapter
4-port High speed Ethernet over Coax Cable Adapter with Power over Ethernet (PoE) output.
Ethernet over coaxial cable is not a new concept. Two significant generations in the development of Ethernet, 10BASE5 and 10BASE2 made use of coaxial cable.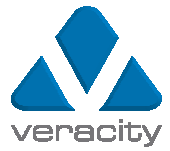 You are Here:- Home >> Products >> Network Solutions >> Veracity >> Ethernet over Coax >> Highwire Powerstar >> Range

- PoE over Coax - Range

Deliver reliable network and power to IP cameras without having to recable HIGHWIRE PowerStaradds the convenience of PoE over CoaxTM technology and the reassurance of SafeView monitoring to Veracity's industry-leading HIGHWIRE Ethernet over Coax product range.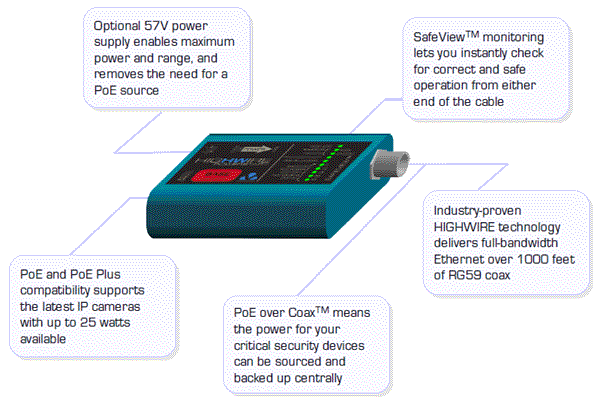 HIGHWIRE PowerStar lets you install IP cameras easily, quickly, and reliably, without the disruption and expense of installing new cable. Support for your camera is assured, thanks to HIGHWIRE's unique full-rate Ethernet over Coax technology, which has been tested and trusted by thousands of IP installers worldwide over the past five years. And now with PoE over Coax, you can deliver up to 25 watts of PoE power to the camera as well, eliminating the complexity of installing local power supplies. For minimal installation and maintenance time, our unique SafeView display provides an at-a-glance confirmation of network activity and power delivery across the whole link, right to the camera, with no need to access remote equipment. And of course, as a Veracity product, no unneccessary configuration or in-depth understanding is required. It all just works, instantly.

- PoE over Coax Range

When HIGHWIRE PowerStar is used to upgrade correctly-installed legacy video cabling, full power is available right to the limits of the HIGHWIRE network connection. However, cable quality and length cannot always be known before upgrading a coax connection with HIGHWIRE. This is why the SafeView display is essential to provide a reassuring confirmation of the power available to the camera, based on the actual power source and cable fitted. With even the lowest grade of cheap RG-59 cable the Veracity HIGHWIRE Powerstar will support a 10 watt IP camera at any range likely to be found in a legacy installation. The table below can be used as an extra check ahead of installation:
Power Source
PoE or PoE Plus Switch
57VDC Power Supply
Request Information:
E-mail