O

mega

C

ubed.net
Information
The Axis TA92A Housing protects Axis Network Cameras in outdoor and adverse indoor conditions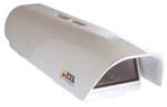 You are Here:- Home >> Products >> Accessories >> Camera Housings >> Axis T92A
Axis T92A Camera Housing


The Axis T92A Housing protects Axis Network Cameras in outdoor and adverse indoor conditions. The housing is made of die-cast aluminum, and offers protection against dust and heavy rain. The sunshield with its integrated edge-protector offers good thermal insulation. Stylishly and designed for easy installation, the housing enables Axis Network Cameras to operate in temperatures down to -20 °C (-4 °F). Various brackets and other accessories are available.
Axis T92A - Features
The housing allows the Network Cameras to be used in outdoor and/or harsh environments
IP66 classified – dust-tight and protection against water jets (see IP Rating System )
Sunshield that offers good thermal insulation
Temperature controlled heating ensures continued camera operation in cold weather conditions down to –20 °C (-4 °F) upto 45 °C (113 °F)
Body Made of die-cast aluminium
Accessories available: brackets for mounting in different locations (with cabling through or standard options).
High Power over Ethernet Version


AXIS T92A20 Housing has a pre-installed High Power over Ethernet splitter for quick and easy installation. The splitter provides power both for the camera and for heating the housing, eliminating the need for additional power cables. Note3: The product should be installed according to local laws and regulations. (It may require the use of a licensed electrician)

Compatibility


The Axis T92A Camera Housing is compatible with the following Axis Cameras:
211W, 221, P1311, P1343, P1344, P1346, P1347 and Q1755 Request Information:
E-mail
[Find out more...]
Axis T92A00 "Technical Data Sheet", 490 kB pdf file.
[Find out more...]
Axis T92A20 "Technical Data Sheet", 429 kB pdf file.
[Find out more...]
Axis T92A00 Installation Guide (PDF)", 9,402 kB pdf file.
[Find out more...]
Axis T92A20 Installation Guide (PDF)", 1,459 kB pdf file.
To view the .pdf file, you will need the free Adobe® Acrobat® Reader or plug-in. If you do not have Acrobat Reader, please select the "Get Acrobat Reader" icon for further instructions.
Region
Axis T92A00
Part Number
UK
5015-001
EUR
5015-001
Axis T92A20 (with High PoE)
UK
5015-003
EUR
5015-002