O

mega

C

ubed.net
Information
The REG camera captures the license plate of any vehicle approaching an access control point and sends that data to the control box which processes the information, compares it to the list and sends a signal to the access barrier to open or remain closed.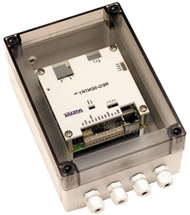 You are Here:- Home >> Products >> Illuminators >> Bosch REG >> REG-Sentry Access >>
Technical Specifications


-Sentry Access Technical Specification
PC System Requirements

CPU Intel Pentium 4 or compatible, minimum 2.4 GHz
2 GB RAM Minimum
Network Ethernet (100 Mb recommended)
Graphics Card AGP or PCI-Express, minimum 1024 x 768 (1280 x 1024 recommended), 32-bit colour
OS Windows XP professional, Windows Server 2003 or Windows Vista Business (32-bit and 64-bit*), Vista Enterprise (32-bit and 64-bit*), Vista Ultimate (32-bit and 64-bit *)
*Running as a 32-bit application.
Environmental

Operational Temp. -50 °C to +50 °C (-58 °F to 122 °F)
Environmental Rating IP66
Request Information:
E-mail
[Find out more...]
REG-Sentry Access "Technical Data Sheet", 1,386kB pdf file.
To view the .pdf file, you will need the free Adobe® Acrobat® Reader or plug-in. If you do not have Acrobat Reader, please select the "Get Acrobat Reader" icon for further instructions.