You are Here:- Home >> Products >> Software >> Axis Camera Management >> Installer Application
AX
IS
Camera Management
- Installer: Assigning IP addresses
You are an installer and have the responsibility to set the IP address of all newly installed Axis network video products.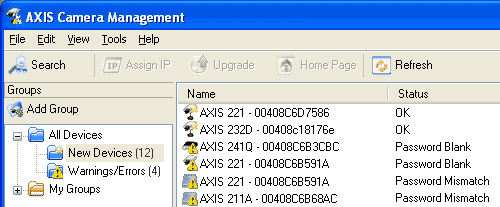 Solution
| | |
| --- | --- |
| Axis Camera Management automatically lists all new network video products on the network. Axis Camera Management will use the Master Password to access devices by default. The Master Password is only used to provide authentication when accessing a device and never to set the password in the device itself. Devices with other password settings than the Master Password appear with status "Password Mismatch" in the list and you enter the unique device password separately. To assign IP addresses to multiple devices, you select the ones you want to configure, select "Assign IP..." and specify the range of IP addresses that can be used. | |
AX

IS

Camera Management
- Contracted Maintainer: Upgrading Firmware You work as a contracted maintainer at a large company and are in charge of upgrading all network video products to the latest firmware version. The cameras are used for monitoring sensitive areas, and should be interrupted as little as possible.

Solution
When Axis launches a new firmware version for one of the products you are using, you download the firmware file from the Axis Web site www.axis.com.

Using the Axis Camera Management software, you select all units of that product model, select "Upgrade Firmware..." and locate the firmware file stored on your PC. To have as few devices as possible offline at a time, you choose to upgrade in Sequence mode.
AX

IS

Camera Management
- System Administrator: Status Monitoring You are a system administrator in a large organization. More than 100 network cameras are connected to the network. You are responsible for keeping the units accessible at all times. You want to handle the devices remotely from the central IT-department.

Solution
You have Axis Camera Management installed on your PC. You have organized the network cameras into groups and subgroups according to their physical location.

The Warning/Error group allows you to quickly notice and take appropriate action in case a device requires attention. The "Not Accessible" status tells you that there might be a problem with the network connection or with the device itself.
Request Information:
E-mail
[Find out more...]
Axis Camera Management "Technical Data Sheet", 184kB pdf file.
To view the .pdf file, you will need the free Adobe® Acrobat® Reader or plug-in. If you do not have Acrobat Reader, please select the "Get Acrobat Reader" icon for further instructions.